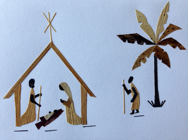 We would like to wish you a Merry Christmas and a Happy New Year 2017! At the same time, we would like to update you on what the contributions received during this last year have accomplished by Ineza Foundation, a registered Rwandan Non Government Organization, in partnership with Grace Rwanda Society, its sister Canadian charitable organization. Together we are changing lives of children and youth in Rwanda.
Completed Projects 2016
The Johnson's in Rwanda
Ineza Foundation and Grace Rwanda's board member's Paul and Elizabeth Johnson, relocated to Rwanda in January 2016, with the first container shipment, allowing them to initiate the opening of Ineza and GR's office and operations and open numerous community libraries. They since returned to Canada in October- November 2016 to load their second 40-foot container shipment of books, which will arrive in January-February 2017 allowing them to launch the next ten District Youth Center Libraries.
Literacy Project
Ineza Foundation is committed to improving the literacy of children and Youth in Rwanda;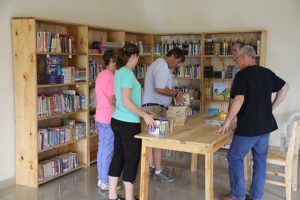 therefore, they continue to initiate District Youth Center Libraries in partnership with Grace Rwanda.
Kimisagara Youth Center in Kigali City
Bugesera Youth Center in the Eastern Province
Rwamagana in the Eastern Province
Karongi in the Western Province
The benefits of these libraries are to provide reading materials, dictionaries, and other educational materials by placing them in the hands of the children and youth that were not previously available. These libraries benefit children and youth by giving them a resource center and help them expand their knowledge, intellect and imagination.
Outreach Activities
Ineza and Grace Rwanda are committed to expanding partnerships with other stakeholders in promoting a reading culture in Rwanda. Ineza joined the Rwanda Reads platform and participated in various literacy activities in collaboration with other partners.
International Language & Culture day: Ineza and GR in partnership with MINESPOC hosted tent-booths where various local schools learned about what Ineza is doing in promoting local language books and local youth writers and publishers.
Gisozi Reading Summer Camp: Ineza & GR hosted a week long reading camp for 100 children and youth with the purpose of educating and providing extra reading and fun events for children and youth during school break.
International Literacy Day: Ineza and GR hosted a booth at the International Literacy Day joining other partners in celebrating and sharing the achievements in promoting a reading culture in Rwanda.
Street Book Carnival: Ineza and GR in partnership with the Esperance Organization hosted four events during the literacy month of September in:

Muhanga Youth Center in the Southern Province
Rwamagana city in the Eastern Province
Car Free Zone in downtown Kigali City in partnership with Save the Children and Rwanda Children Book Forum
Gisozi Eco Lodge Social Enterprise Project:
As part of sustainable development initiative, Ineza and GR are developing the Gisozi location for a community multipurpose hall that will be used for Ineza and GR office, training & literacy activities for communities.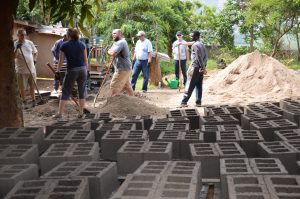 We want to thank Developing World Connections Teams: August and December 2016. The August Team installed the perimeter fence surrounding the upper lot of the Gisozi site, and the second team made 3,000 cement bricks for the multipurpose hall. One brick at a time, the team also built a security guard house, which will serve to secure the lower part of the plot, a green zone area that is being developed to make experimental community gardens to be used to train local farmers to maximize production on their land for personal food.
Please consider contributing to Ineza Foundation and Grace Rwanda Society for their Literacy and Community Projects, to enrich children and youth, the hope of Rwanda. Our goals for 2017:
Host six literacy outreach events
Complete the multipurpose hall at Gisozi
Open ten District Youth Center Libraries in five Provinces
Complete the Gisozi plot horticulturally for community urban kitchen garden training
Join us to make a difference, Donate.
It is our hope that with your kind and generous support we all can help children and youth make a big difference in Rwanda.
From all of us at Ineza Foundation,
We wish you a Very Merry Christmas and Happy New Year 2017