Women and youth social business initiatives = Sustainability through empowerment and ownership
The Gis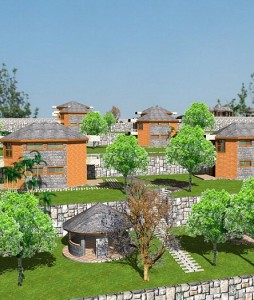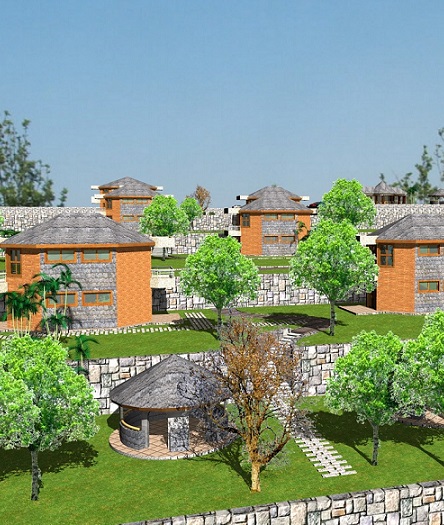 ozi Hill Eco‐lodge will be a 100% environmentally green social enterprise that aims to provide an alternative green choice accommodation and hotel services for tourists and the professional community, and promote Rwandan culture and development. It was conceptualized to address socio-economic and environmental issues, including employment, empowerment of women and youth, environmental conservation and sustainability, and at the same time generate funds for INEZA FOUNDATION social philanthropic initiatives.
Located in the suburban district of Gasabo in Rwanda's capital, Kigali, the Gisozi Hill Eco-lodge has a property of 2.4 acres that will house a main building with reception area, conference amenities and restaurant, as well as 36 large residential guest apartments. It is ideally situated near many of the tourist attractions and cultural highlights, including the infamous Kigali (Gisozi) Genocide Memorial.
Mission
It will provide a safe haven of rest for travelers and to empower women and youth in leadership through social change initiatives.
Vision
Gisozi Hill Eco‐lodge will exist to provide an alternative accommodation experience, especially, for those environmentally conscious travelers, connecting them to Rwandan, its culture and people, so they can participate locally and globally as agents of change.
Why social business ?
"Business dedicated to solving social, economical, and environmental problems that have long plagued human kind – hunger, homelessness, disease, pollution, ignorance." Muhammad Yunus
Self sustainable
Job creation for women & youth
All profits reinvested in social projects :

Micro-Finance: Funding small and medium social enterprise businesses for youth, women, and vulnerable groups.
Education : Literacy for schools & district youth centers.
Local nutrition based learning garden : Kitchen gardens.
Maternal health : Education programs and tools on HIV prevention, motherhood support networks, mothers/infants and children nutrition workshops, and health outreach program.